Chatwork: Japan's SMB Focused Slack - Overview & Q220 Earnings Summary
Having launched its core Slack-like business messaging service in 2011, Chatwork has grown into a $575M publicly listed SaaS company
In this post, we loosely translate & summarize Masayoshi Yamamoto's, the co-Founder & CEO of Chatwork, Q2 2020 earnings presentation. In some instances, we have taken the liberty to add additional details to provide further clarity & insights, while also excluding certain aspects of the presentation that were deemed less relevant for purposes of this post.
Chatwork is valued today at ~$575M, or ~19x NTM revenue, is free cash flow positive & is growing its top-line between 35% to 40% YoY. The company dominates the still emerging "business chat" market in Japan & has aims to grow into a business "Super-App" over the next decade.
———
Business Summary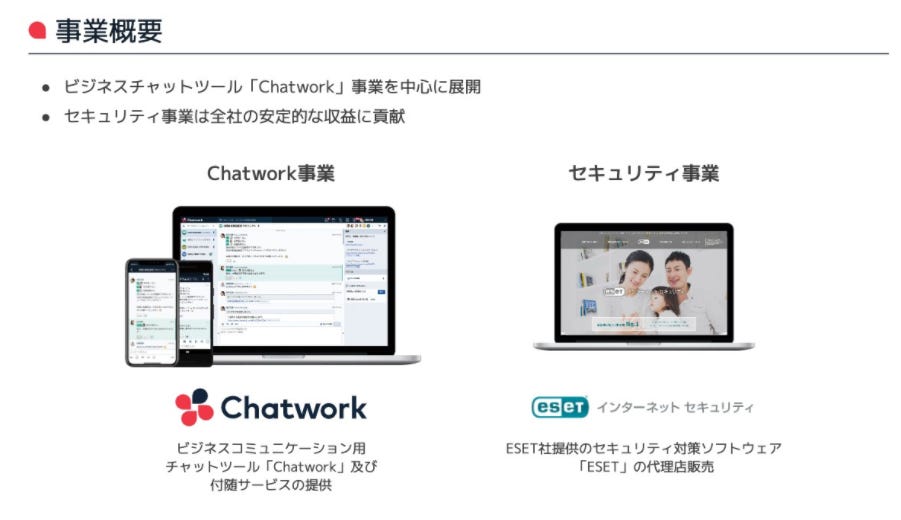 Chatwork has two main business lines. The first is its Slack-like business messaging service called "Chatwork" that accounts for roughly 90% of total company sales. The other business is called "ESET" and is a cyber security product protecting against common threats such as phishing, spyware & SPAM.
What is "Chatwork"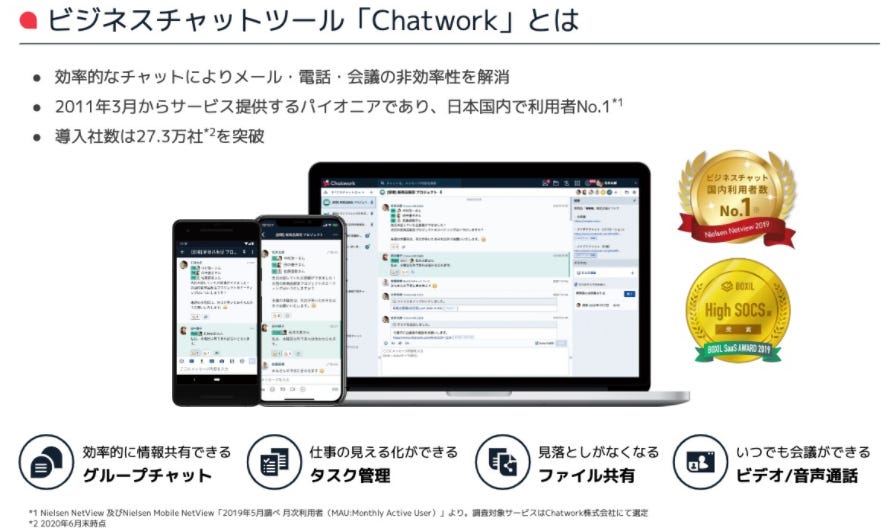 The business messaging service "Chatwork" aims to improve the efficiency of business and communication through chat.
The original version of the product was first released on March 1, 2011. It was likely the first modern-day business chat product launched in the world. As a pioneer of the industry, Chatwork currently holds the #1 market share position in Japan based on the number of users. The number of companies who have used Chatwork exceeds 273,000.
Cloud Meeting Rooms Accelerate Business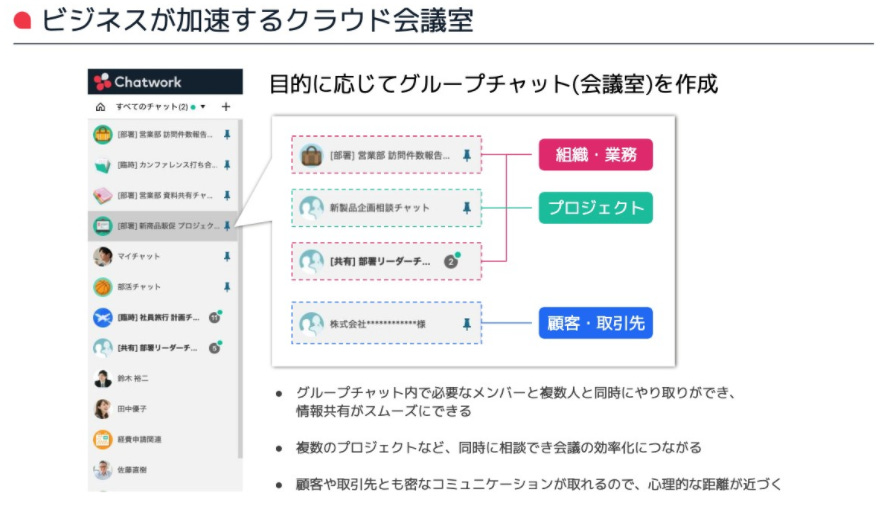 Chatwork allows users to creates many different chat rooms, bring together multiple people in what we "cloud meeting rooms". These conferences room can be as small as three people or up to fifty or more, each discussing a range of different topics. Being able to efficiently switch across these meetings throughout the day powers productivity & efficiency.
Plans & Pricing
Chatwork offers four user plans. The first is a free tier - it costs ¥0 for unlimited usage up to fourteen "cloud meeting rooms".
The second tier is aimed at individuals & primarily targets individual business owners. The cost is ¥400 per user per month.
The third tier is intended for small and medium-sized enterprises & costs ¥500 yen per user per month. 
The final enterprise tier is built for large enterprises with security protocols & other necessary add-on features. This costs ¥800 per user per month.
The main difference between the free and paid plans is not so much the number of group chats available, but the user management functions. The more business oriented plans have an organizational management function allowing for the creation of accounts when employee joins or the deletion of said accounts when they leave, for example.
Environment Supporting Business Chat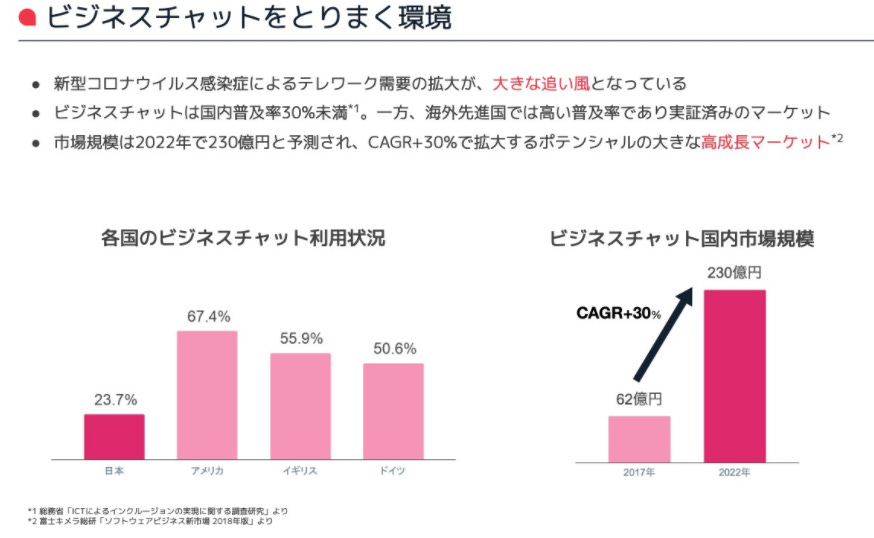 Today's increasingly digital workplace environment, which has been even more impacted recently by the COVID-19 pandemic, continues to accelerate the demand for our business messaging service.
In Japan, the penetration rate for "digital business chat" more broadly remains low. According to data from the Ministry of Internal Affairs and Communications, just 23.7% of businesses use any type of "digital business chat tool". There remains significant room to grow.
On the other hand, the penetration rate is high overseas, hitting 67.4% in the United States, 55.9% in the United Kingdom & 50.6% in Germany.
The estimated size of the "business chat" market in Japan was ¥6.2Bn (~$58M at August 2020 exchange rates) in 2017 & is expected to reach ¥23Bn (~$218M) by 2022, representing a CAGR of ~30%. [JBI note: Chatwork's 2022E sales would equate to ~21% of the market at current growth rates]
Key Features of "Chatwork"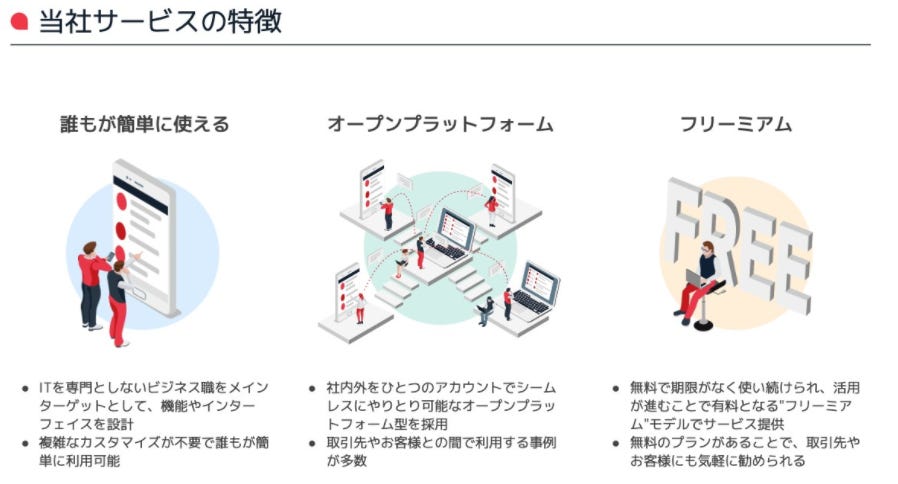 "Chatwork" has three major features. The first is that the service is designed so that anyone can use it easily; you need not be intimately familiar with technology to quickly grasp how to use "Chatwork". It is very similar in many ways to using the very popular consumer messaging app "LINE" in Japan.
The second is that it is an open platform. Both internal and external users can seamlessly communicate inside and outside of the company using a single "Chatwork" account. This makes it very easy to communicate with external partners and customers. [JBI note: this is very similar to Slack's recent Slack Connect update. The cross-side network effects here are significant, as usage between those inside & outside of client companies scales & deepens]
The third is that Chatworks operate a freemium business model. This allows them to have a more "viral", low-friction "go-to-market" strategy, where our focus is then on encouraging broader use within an organization & driving upsells.
Optimal For Smaller Businesses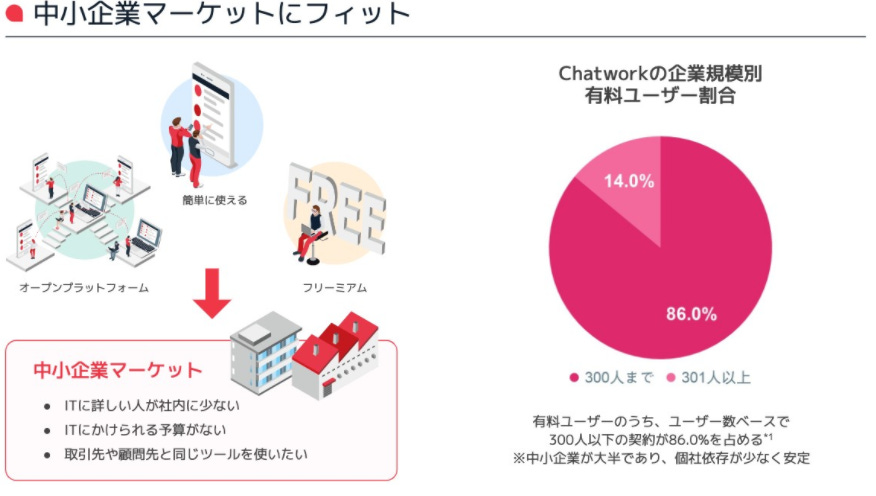 These three aforementioned features make "Chatwork" a very strong fit for the SME market, organizations usually without a significant IT department, generally constrained budgets & where simple, time-saving tools are very valued. Unlike large companies, SMEs often work with many outside partners, so the open platform system where existing clients organically onboard & encourage adoption from their business peers is very powerful.
Notably, of "Chatwork's" paying clients, 86%, have 300 or fewer employees.
Competitive Positioning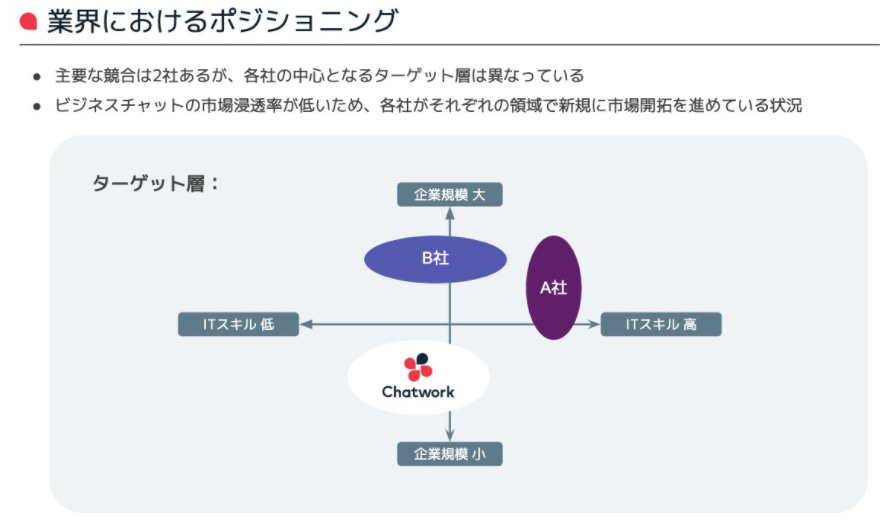 "Chatwork" has two main competitors. Company A [JBI note: presumably Slack] is an overseas company focused primarily on engineers with a core focus on enterprise clients. Company B [JBI note: presumably Microsoft Teams] is also primarily competing in the enterprise market given its strong existing relationships with a significant percentage of large companies across the globe.
"Chatwork" is more so focused on the smaller & medium sized business market, where they believe the competition is less intense & the penetration is much lower, particularly in Japan.
Twin Engines That Support Growth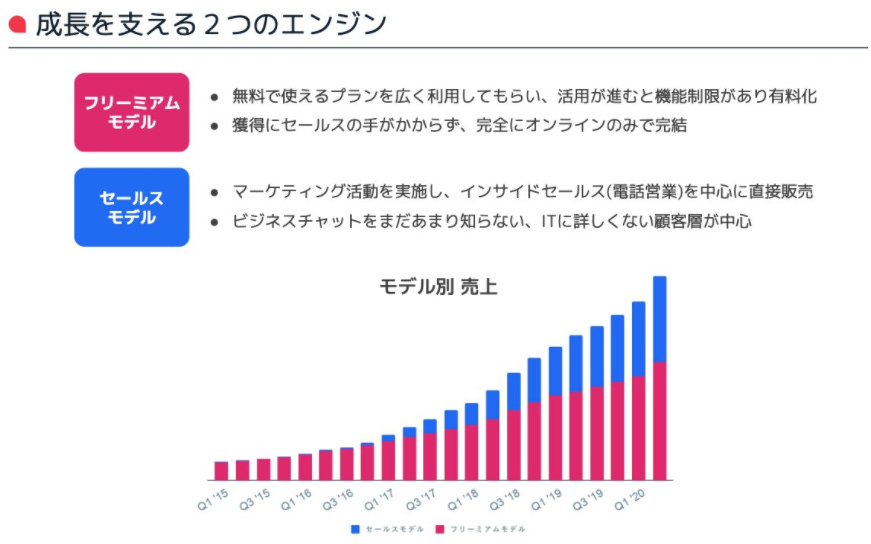 Chatworks growth is driven by a low-friction, more viral "freemium model" & a direct sales, B2B "sales model".
"Chatwork" was launched in 2011 & raised about ¥1.8Bn ($17M at August 2020 exchange rates) in venture capital in 2015. Up until that time, there were no sales personnel. Upon raising this capital, that is when they launched our sales department.
If you look at the graph, "Freemium" growth is in red, while direct sales is represented by the blue parts of the columns.
User Cohort Analysis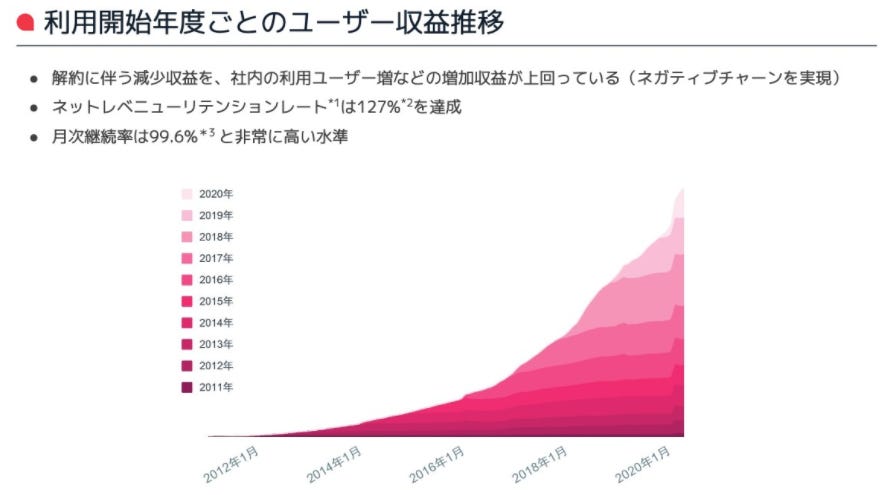 This chart will be self-explanatory to most investors.
Notably, Chatworks current net revenue retention rate is 127% [JBI note: presumably citing their dollar based net retention here]. At present, 99.6% of "Chatwork" users continue usage each subsequent month.
Worth highlighting, you can clearly see that the angle of the chart sharply jumps more recently. As will be furthered discussed later, Chatwork has recently introduced revamped, higher priced plan offerings (i.e. up 20% across the board end of February 2020).
Accelerating The Virtuous Cycle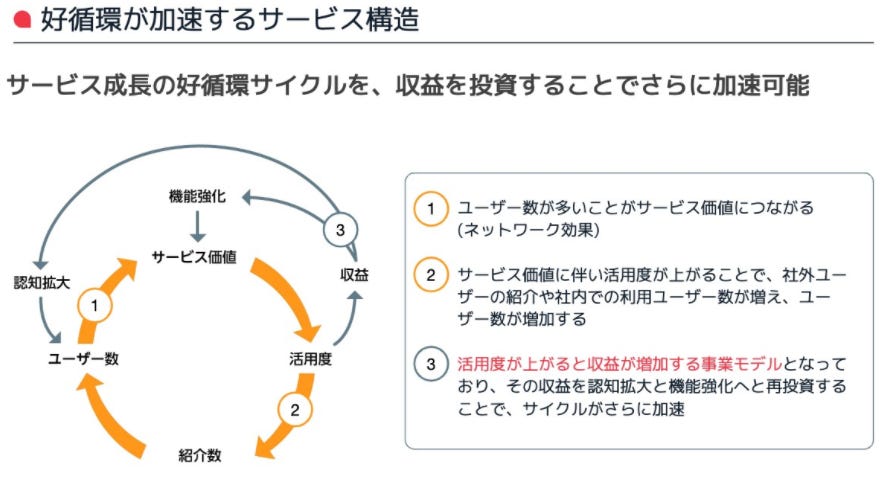 This diagram depicts "Chatworks" virtuous flywheel "in action". As more users use "Chatwork", the "Chatwork" user ecosystem grows in value, making it easier & easier to efficiently communicate not only within an organization but among outside organizations also using "Chatwork". From this grows an increasing propensity to organically convert freemium users into paid users, particularly as Chatwork continues to build out additional product tools.
To Become The Business "Super-App"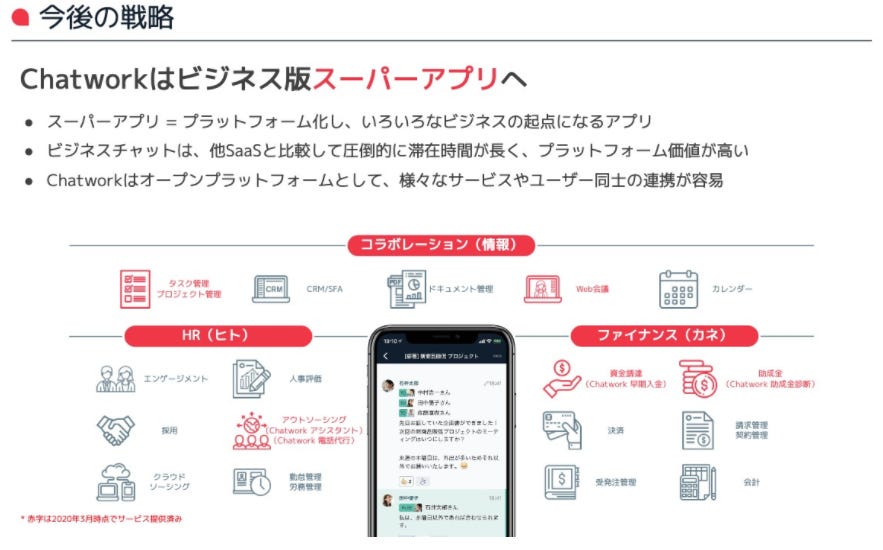 Similar to WeChat, AliPay or Line, the aim is to grow "Chatwork" into a comprehensive business focused "super-app". With penetration of business chat tools in Japan growing from <30% to >60%, coupled with users already spending hours each day in "Chatwork", there is an opportunity to layer in a range of other value add HR, reporting & fintech related products that will help client organizations become ever more efficient & organized all from within a single, familiar software tool. Third-party integrations are already a growing feature within "Chatwork", with an integration with Zoom recently released in July 2020
The "Super-App" TAM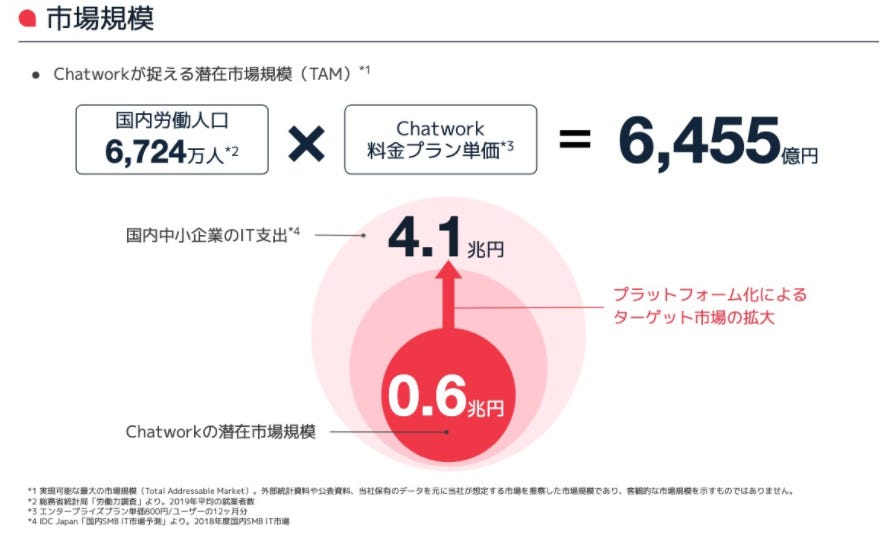 Given the "super-app" potential, Chatwork believes it can touch virtually the entire working population of Japan, or 67M individuals. With an increasing ARPU given the growing breadth & value-add of its expanding "super-app", Chatwork believes its TAM can reach ¥646Bn ($6.1Bn).
By 2024, Chatwork aims to achieve ¥10Bn in sales (~$100M) with an increasing investment in the direct sales model moving forward. Once achieved, a heavier focus will then be placed upon broadening the product suite within "Chatwork" to attain the "Super-App" vision.
Q2 2020 Performance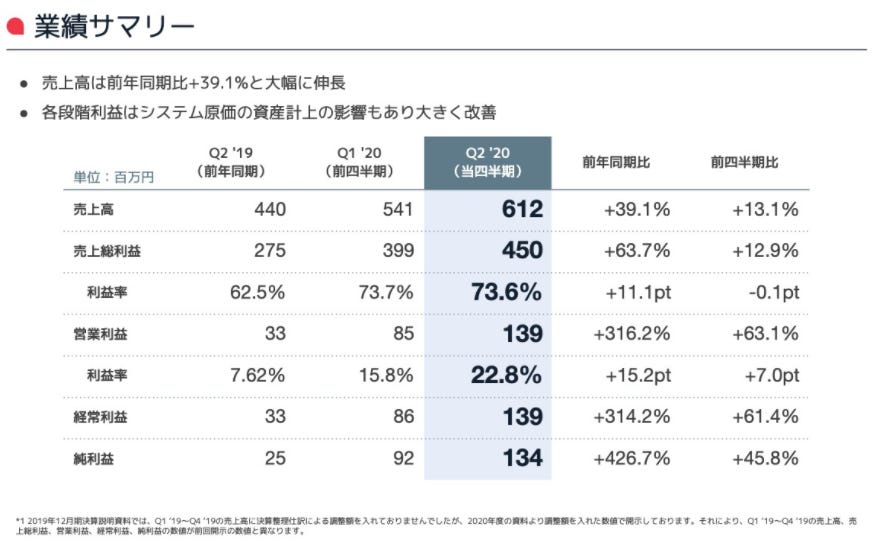 Second-quarter financial figures are as follows:
Total sales were ¥612M ($5.8M), a YoY increase of 39%

Sales of the main "Chatwork" product were ¥520M ($4.9M), a year-on-year increase of 35%

Gross profit was ¥450M ($4.3M), a YoY increase of 64% at a margin of 73%

Operating income was ¥139M, up 316% YoY at a margin of 23% previous

Total # of billing IDs was 434k, up 19% YoY with an ARPU growth of 15%
Sales Trend Continues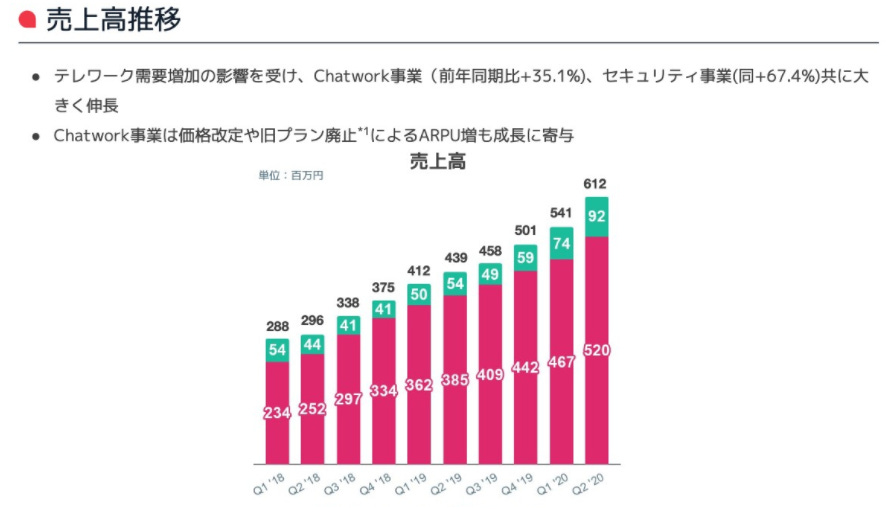 Green represents the ESET cyber security product, while pink is the core "Chatwork" product. Regarding the former, ESET experiences a 67% YoY growth rate.
Core KPI Growth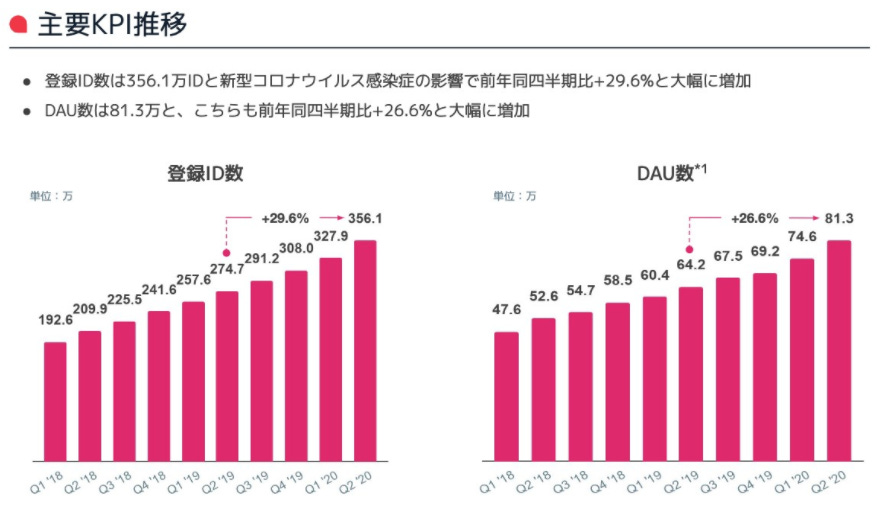 # of registered IDs hit 3,561,000 (left), a significant YoY increase of 29.6%  

DAUs (Daily Active Users) hit 813,000 users (right)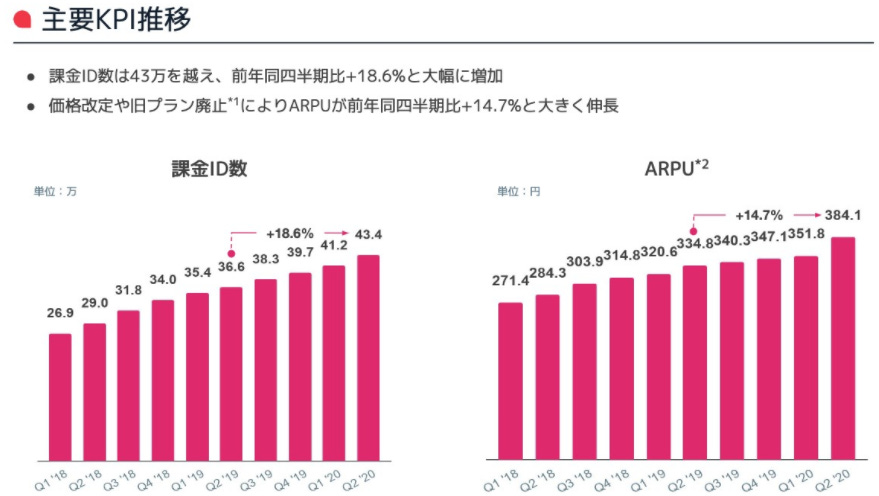 # of total billing IDs hit 434k, while ARPU jumped to

The # of employees increased from 114 to 134 company-wide, with a focus on inside sales & engineering talent. [Not shown]
Fiscal Year 2020 Forecast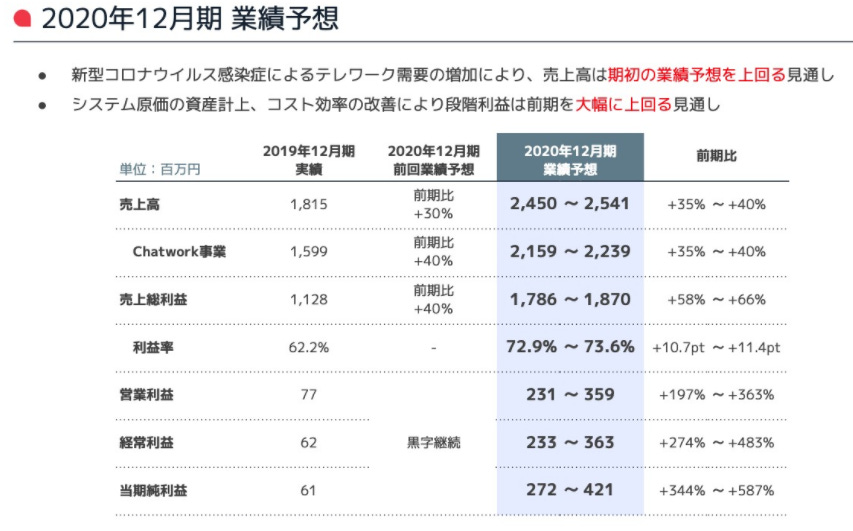 From top down: total sales, "Chatwork" specific product sales, gross profit, gross profit margin & finally operating, ordinary & net income
———
Thanks for reading!