Broadleaf: The Vertical SaaS Enabled E-Commerce Marketplace for the Japanese Auto Aftermarket
Its legacy software already the de-facto industry standard, Broadleaf is transforming itself into a data-driven, SaaS-based cloud platform to power its under-monetized, latent auto parts marketplace
Broadleaf (TSE: 3673) is a publicly listed software & IT solutions provider predominately serving the ¥12tn (~$114Bn) automotive aftermarket in Japan, the world's 3rd largest automobile market.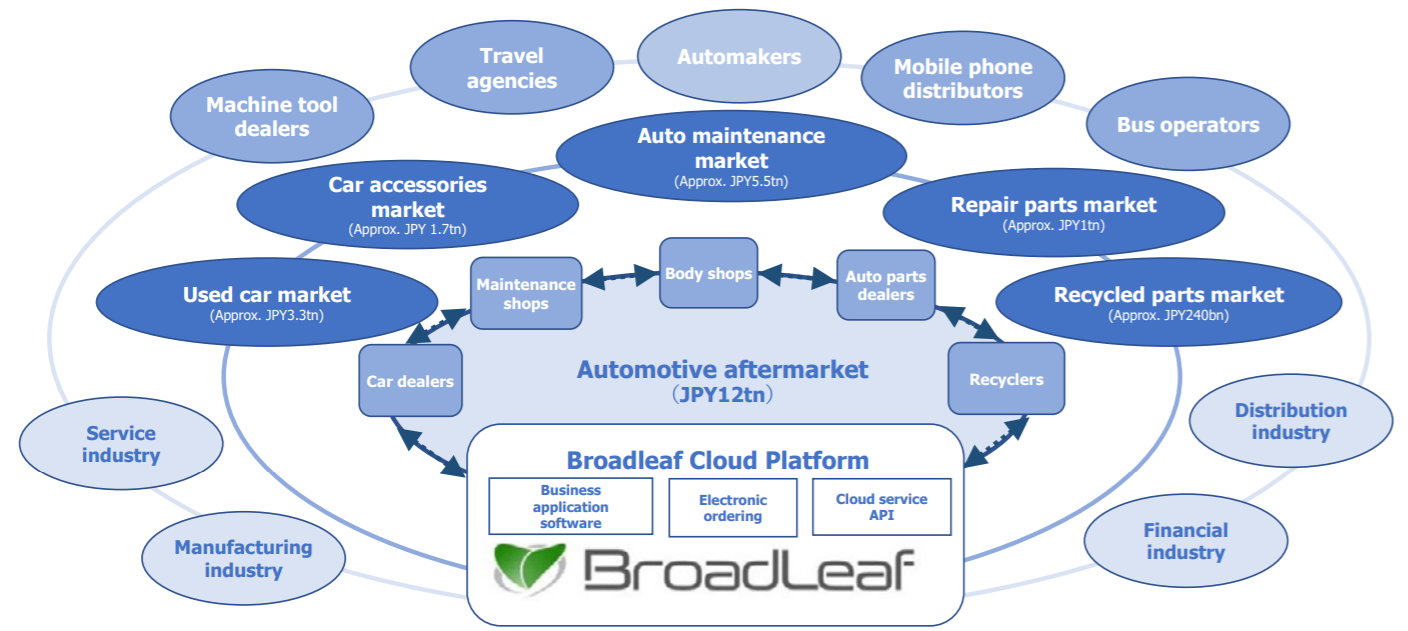 Source: SharedResearch
Broadleaf is an attractive business to study today for two core reasons:
The company is a fairly sizable, consistently profitable software business with a deeply entrenched competitive position that has been developed over decades

The company is in the midst of transforming itself from an on-premise, packaged software vendor into a dynamic cloud-based, SaaS enabled e-commerce marketplace platform
We'll spend most of our time discussing the second bullet point, as we feel investors today are seemingly ignoring the powerful business & revenue model shift underway at Broadleaf. In many ways, we view the company's in-process cloud transformation as similar to that of Adobe's…and we know how that turned out once most investors caught on:

Source: Vested
JBI Note: you'll likely want to read this post in your browser, as it runs longer than what can be shown via email alone. Also, we try to cite our sources as much as possible, though where we do not, it is safe to assume we gathered business and industry specific information directly from company filings or from one of the many hyperlinked sources throughout the post.
---
A Brief History Lesson
To start at the very beginning, Broadleaf's predecessor business, Tsubasa Systems Co., was founded in 1983 with an initial aim of developing a centralized inventory management software specifically for auto parts dealers - this offering is now known as Broadleaf's PM Series. Over time, Tsubasa broadened its customer base by adapting its core software offerings for auto maintenance shops, used car dealers & mobile phone distributors (JBI Note: a number of which, interestingly, have historically also been auto parts resellers), among a few other verticals (i.e bus operators, travel agencies & machine tool dealers).
Skipping ahead to 2005, Broadleaf as we largely know it today was "founded" via the acquisition of the above-mentioned predecessor entity by Olympus Corporation's then subsidiary, ITX Corporation. Carlyle subsequently acquired Broadleaf in a management buyout in 2009 & later IPO'd the company in 2013.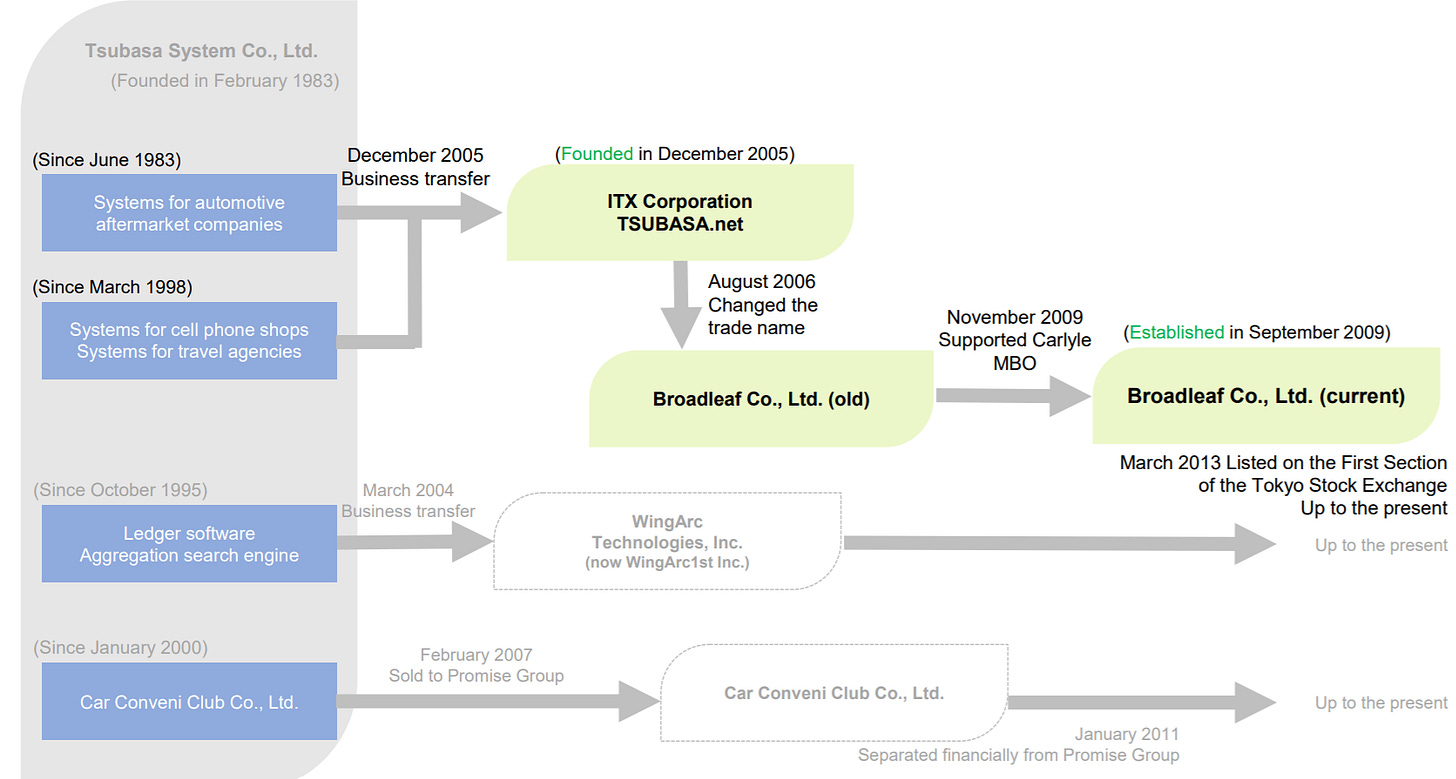 Source: Company Presentation
Breaking Down Broadleaf
Broadleaf's customer count is >42,000 as of August 2020, with the automotive aftermarket representing 79% of revenue: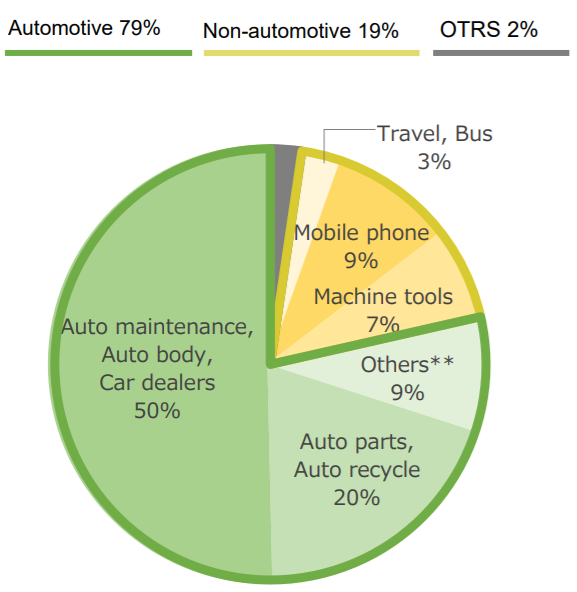 Source: Company Presentation
Taking a closer look at its core auto maintenance segment, we can see that the industry in Japan has remained sizable & surprisingly stable: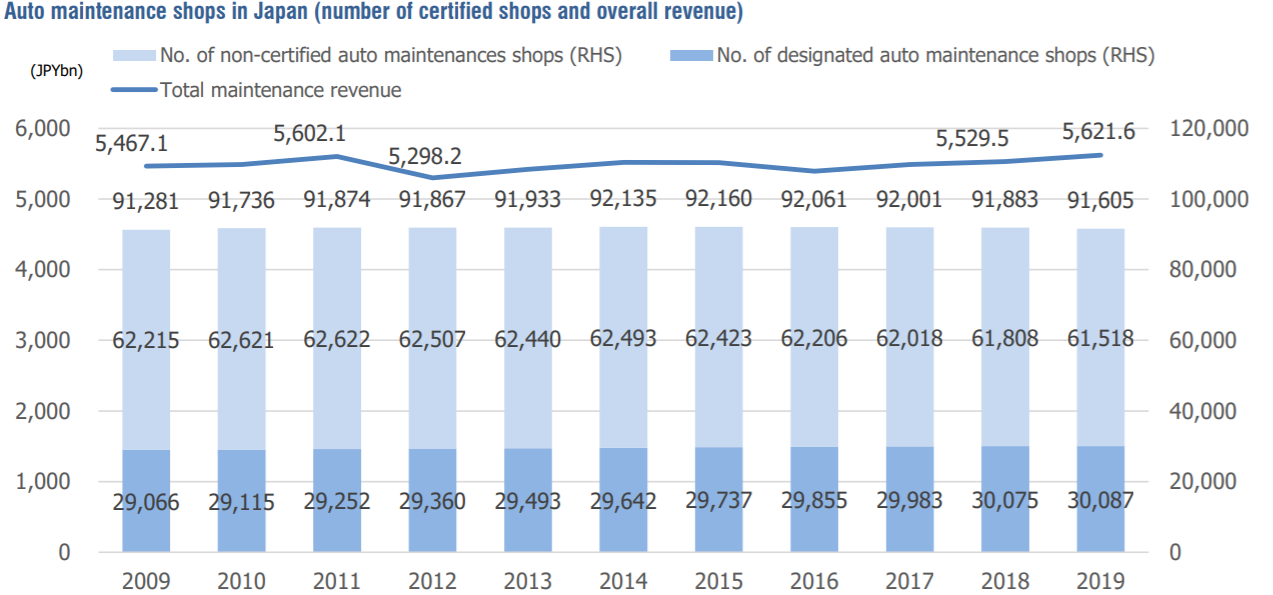 Source: SharedResearch
We'll highlight additional details in the next section, however, Broadleaf restructured its financial & operational reporting over the last few years to better align with its medium-term goals. To that end, the company now presents itself as two segments:
Platforms - ~45% of FY19 revenue

Platforms revenue is predominately driven by customers' use of Broadleaf's B2B auto parts inventory database software as well as its online parts e-commerce marketplace, ongoing support services & data analytics offerings, all of which are generally more recurring in nature.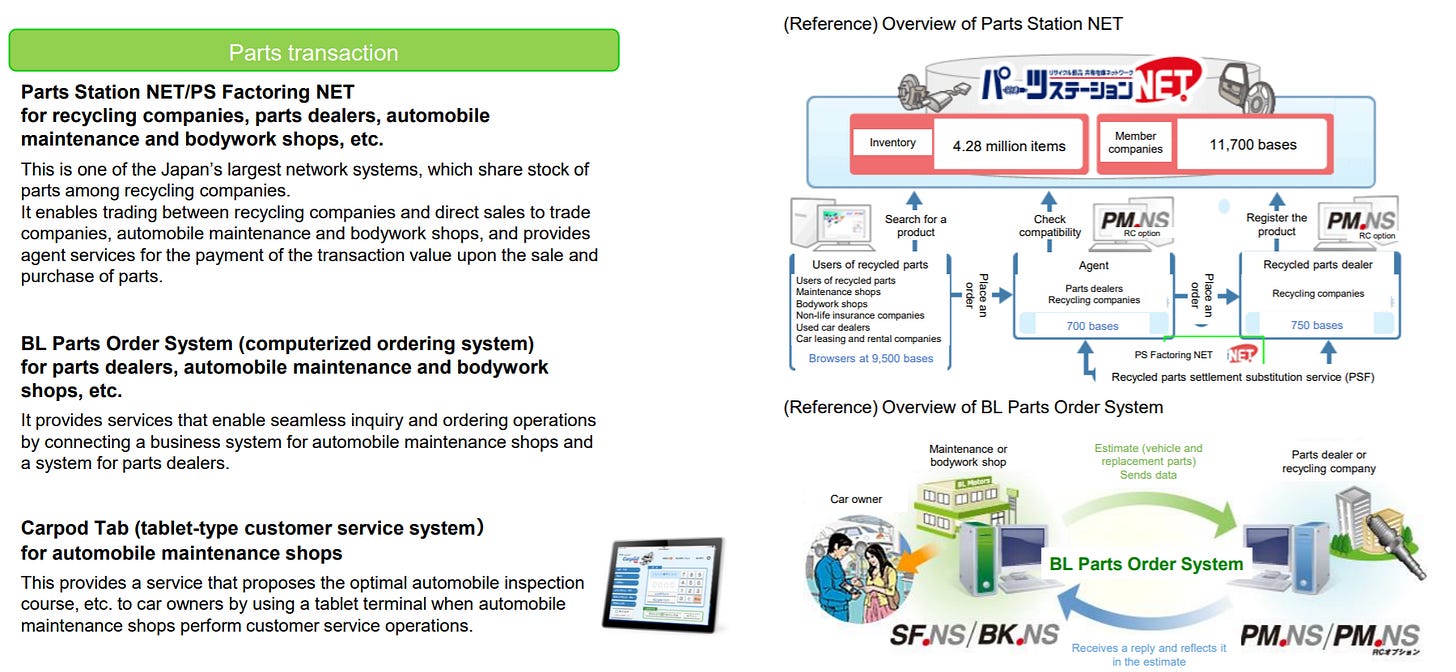 Source: Company Presentation
Applications - ~55% of FY19 revenue

Applications revenue is primarily composed of license fees for use of Broadleaf's sub-sector specific software business applications. These revenues are recorded as a lump-sum payment & are generally lower margin when compared to the Platforms side of the business.

Notably & more relevant to the Applications business segment, ~10% of total company sales is earned via a third-party "agency sales channel", while the remaining ~90% is sourced via direct sales by way of Broadleaf's 29 nationwide sales offices. With typical software contracts in the Japanese automotive aftermarket lasting 5 to 6 years, sales cycles tend to be long, usually requiring 8 to 9 in-person meetings to advance to the negotiation phase. This negotiation period can itself last 3 to 4 additional months. It is important to also note that Broadleaf has historically not signed direct contracts with its customers; rather, they have typically executed customer contracts via a third-party leasing company who acts as an effective "middleman"

JBI Note: we have not yet determined why this has been the case, though as we'll touch on later, Broadleaf is actively transitioning to a more standard monthly / annual direct SaaS pricing model, as it rolls out its cloud product suite.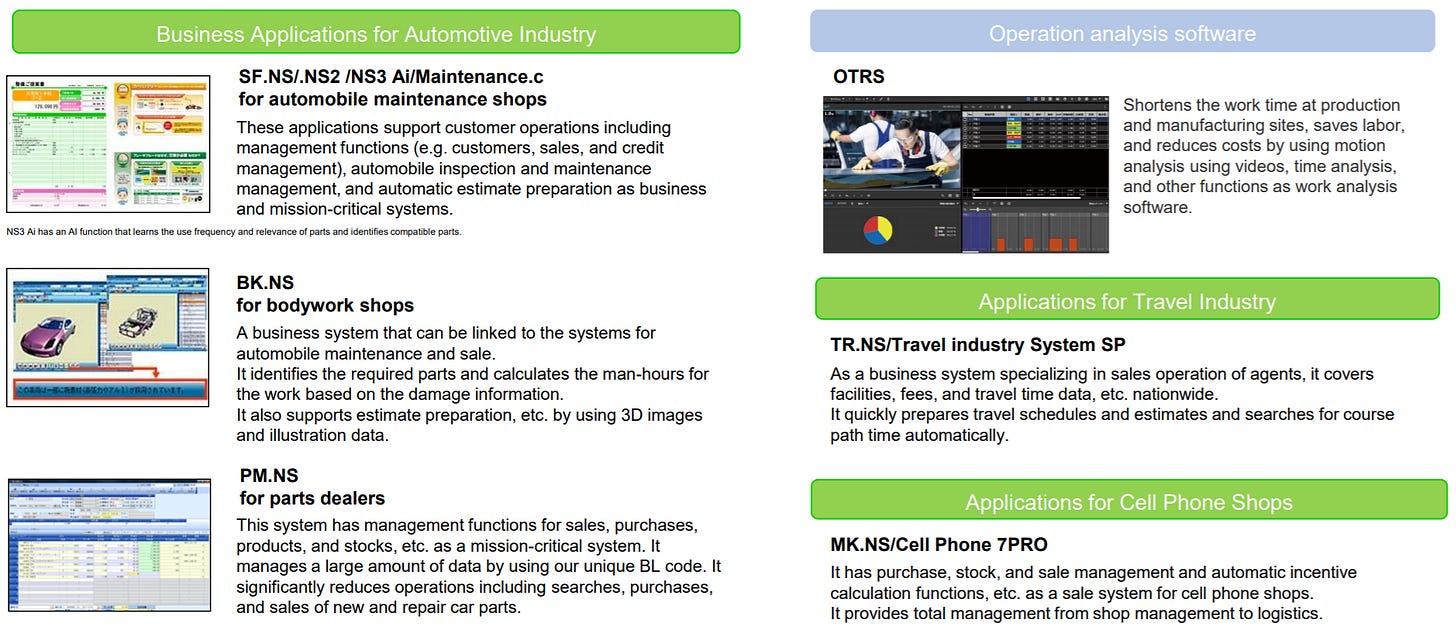 Source: Company Presentation
Within its core auto aftermarket, Broadleaf enjoys a dominate competitive position, with management estimating its market share as follows (on a customer count basis):
65% - auto parts dealers

48% - auto parts recyclers

27% - body shops

25% - auto maintenance shops

Specifically regarding auto maintenance shops, Broadleaf's customers tend to be larger in size & often have adjacent business lines, such as an associated used car dealership. Unlike virtually all of its competitors, Broadleaf capitalizes on its unique ability to offer nuanced versions of its software system to a given customer's related business units, thereby deepening its reach into & value-add throughout a client's cross-business internal workflows. As a result, the company naturally focuses much of its attention on these more "enterprise" level auto maintenance shops.

On a related note, Broadleaf's auto maintenance customers are most often unaffiliated with car manufacturers. The rationale being that shops aligned with the likes of Toyota or Nissan usually demand more customized product features, which distracts product development & dampens profit margins, or are already leveraging an existing Toyota-built software, for example.

Source: Company Website
"Owning" The Industry Product Code Standard
Powering its leading industry position across the range of auto aftermarket sub-sectors is Broadleaf's long-standing "BL codes". First rolled out by its predecessor business in the 1980's, these product codes identify every auto part sold by every manufacturer across all vehicle types in Japan. More specifically, ~470M unique auto parts products (JBI Note: a single car generally has ~30,000 unique parts).
As a result of "owning" the industry-wide product code standard, Broadleaf launched its aforementioned auto parts ordering platform in December 2011. This quickly became the dominate auto parts digital ordering system, enabling Broadleaf's BL codes to today account for ~90% of the parts distribution that flows through all auto parts dealers across Japan. Given such pervasive use of its BL codes & the company's significant market share among auto maintenance shops, Broadleaf has been able to accumulate repair data on ~25% of all registered vehicles in Japan (as of FY17), or 16.8M automobiles to be exact.
Broadleaf's Overall Customer Domain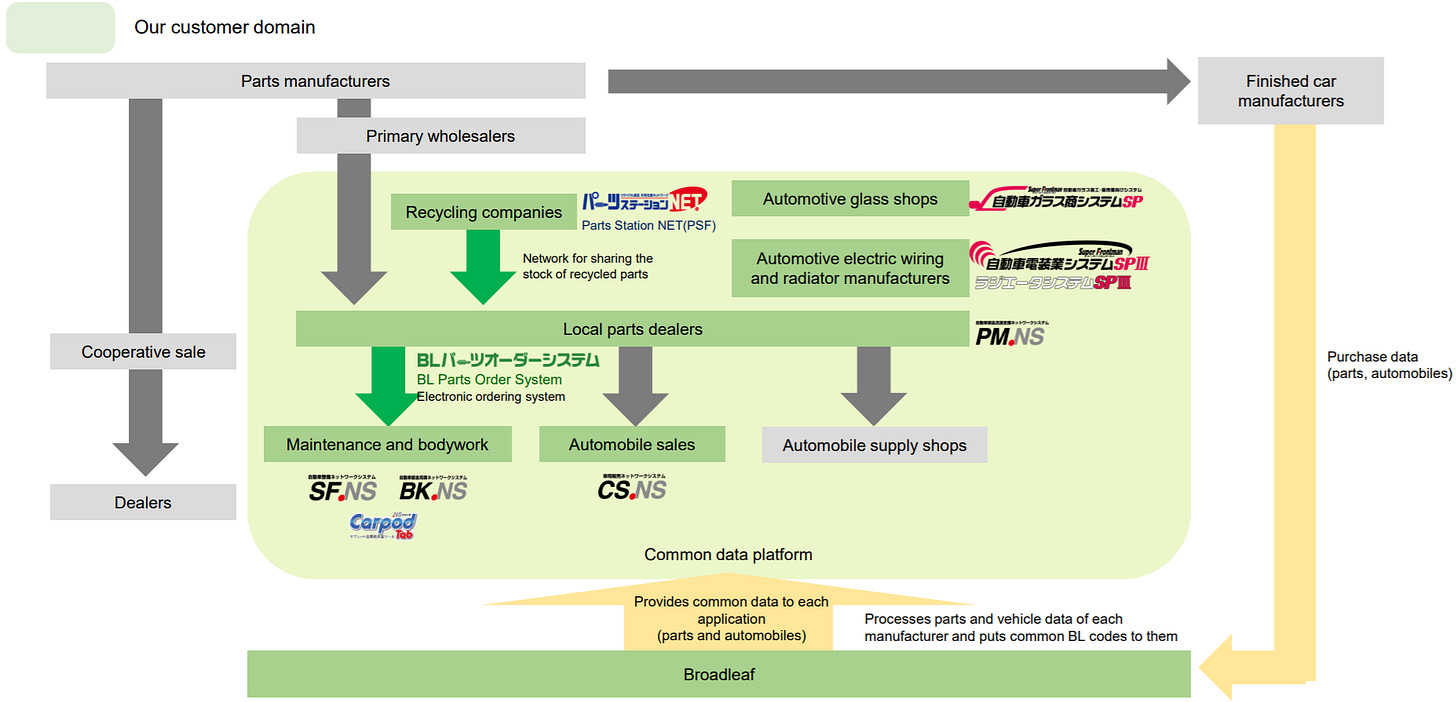 Source: Company Presentation
Other Product "Call Options"
We won't spend much time diving into these, but it is worth highlighting a few of Broadleaf's smaller, less well-known, but nonetheless potentially one day very sizable, ancillary product offerings.
The most prominent example is that of its previously acquired Operation Time Research Software ("OTRS") offering. This was recently re-released as a cloud based product in 2019 & today accounts for just 1.5% of total revenue, or ~$3M. In a sentence, the OTRS module allows primarily process-based companies of all types to use video to identify & analyze operational inefficiencies in their workflows. Broadleaf has been able to sell OTRS outside of the auto aftermarket industry, including such sectors as logistics, medical, nursing care, agriculture & education. The company is leaning on OTRS to lead its international expansion efforts, as it has already been rolled out to ~6k customers in 20 countries.
Source: Company Website
As a further example, Broadleaf offers auto repair shops the ability to quickly & easily launch their own dedicated stand-alone websites via its BL.Homepage product. This is very similar to that of Shopify & Japan based BASE, which we covered in an earlier JBI post.
Lastly, and perhaps complementary to BL.Homepage & certainly to its auto parts e-commerce platform, Broadleaf has rolled out its Broadleaf.Pay product to allow for efficient, low-cost digital payments within its ecosystem.
JBI Note: we have not been able to find much information about this payment offering, however, we view this as a very compelling "call option" should management further focus on scaling this business opportunity. We are seeing the powerful "embedded finance" approach pay out across a growing number of software companies in other developed markets (i.e. Shopify Payments) & even in Japan (i.e. PAY.JP from BASE). This strategy is a rather logical, profitable & enduring way to layer on incremental high-margin recurring revenue on top of existing SaaS earnings streams.
Consistently Profitable with Lumpy Growth, "Smoothing Out" in Short-Order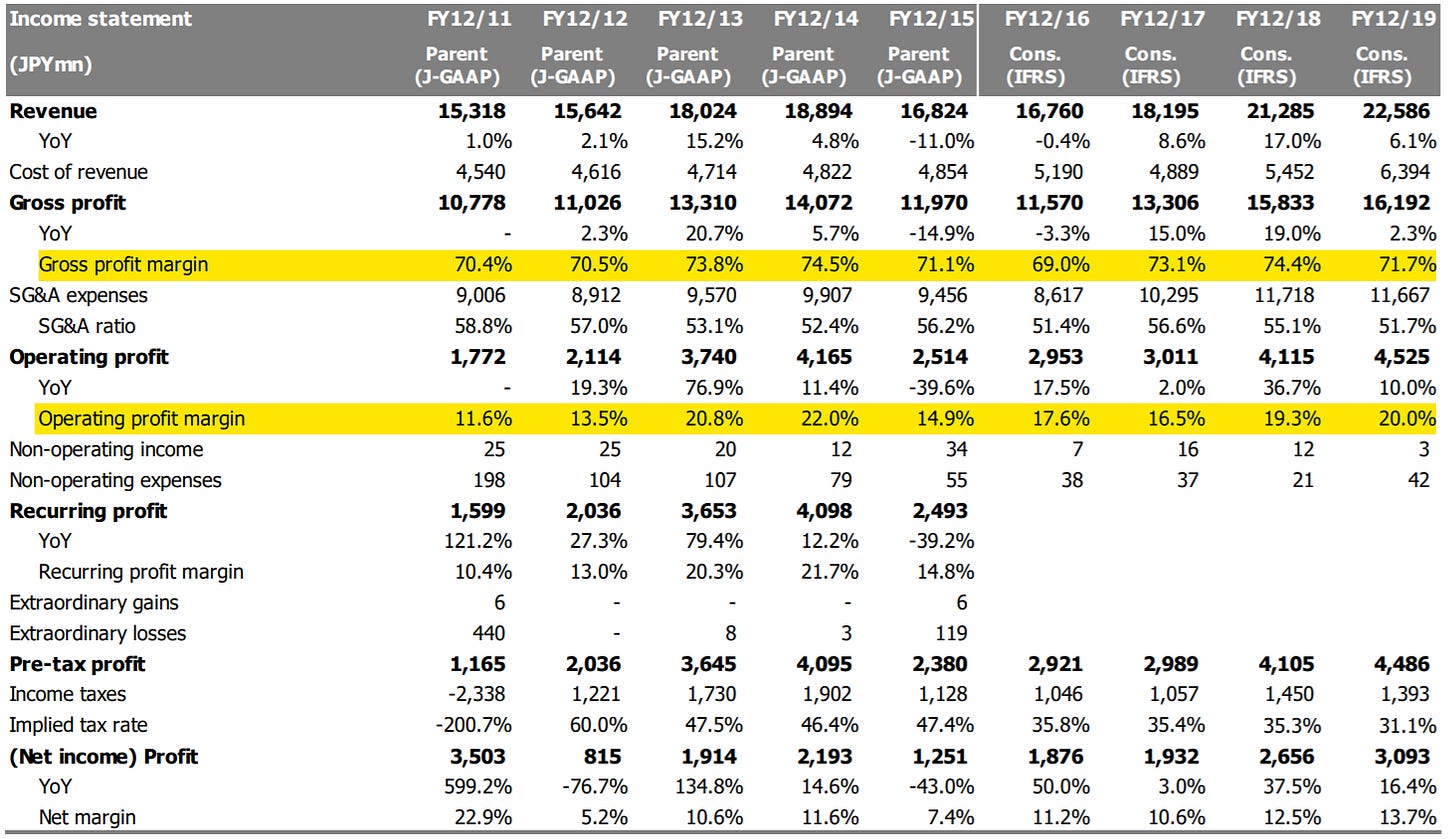 Source: SharedResearch
JBI Note: for some quick context, FY2019 sales & operating profit were ~$214M & ~$43M, respectively, using a 105.5 ¥ / $ exchange rate
Looking at the company's historical financials shows a business that has enjoyed a rather healthy, though somewhat fluctuating level of operating profit, alongside a particularly strong, consistent gross margin. Revenue, on the other hand, has been quite lumpy due to the earlier mentioned fact that Broadleaf has typically signed its 6-year software license contracts via a third-party leasing company & has received proceeds in a lump-sum format.
As customers continue to shift to Broadleaf's cloud offerings, revenue should increasingly "smooth out", providing for a more attractive, consistent & easily predictable top-line - more on this later.
Notably, Broadleaf's "logo retention", or ""customer churn rate", has been >95% in recent quarters, with management expecting this to rise, as the transition to its SaaS pricing model & sales motion advances.
A Moderate, Rationale & Slow-Moving Competitive Arena
DIC Japan (unlisted, headquartered in Nagano Prefecture) is likely Broadleaf's most direct competitor, as the company also provides software applications to auto maintenance shops, among a wide range of other products & services across numerous industry sectors. It should be noted, however, that in FY19, DIC had consolidated revenue of just ¥2.2bn, which is about one-tenth that of Broadleaf's.
Publicly listed Proto Corporation (TSE: 4298) overlaps quite meaningfully with Broadleaf as well, however, the business leans far more heavily on data, information based & media related offerings vs. software. Examples include i) a car part search database; ii) an auto repair shop search site; and ii) a used car shopping site (corresponding from left to right in the below image).

Source: Company Website
A more formidable, far larger competitor, though one not too deeply focused on just the auto aftermarket space, is MonotaRO.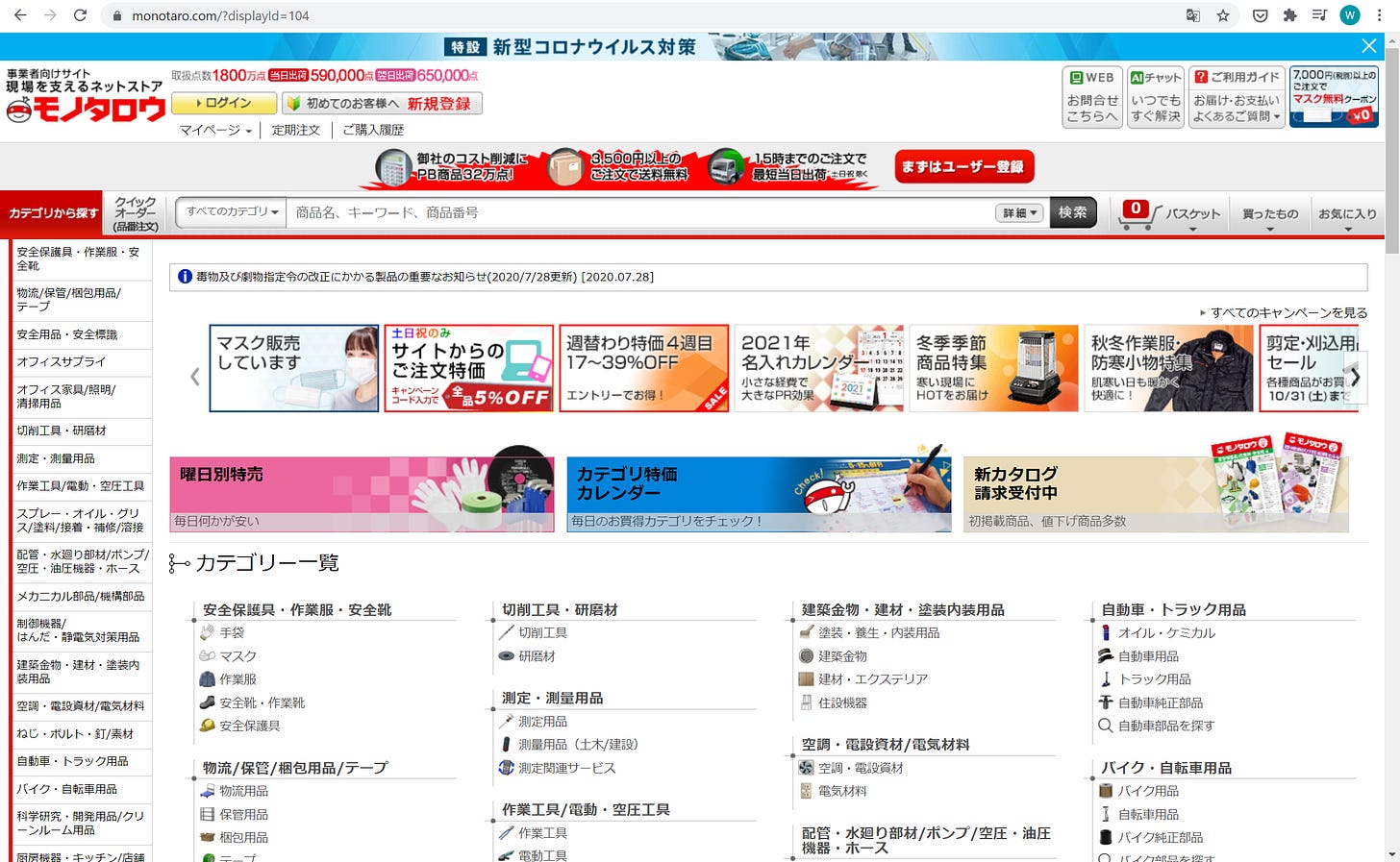 JBI Note: we'd strongly encourage readers to have a closer look at MonotaRO. It is a fabulous business, one you could say is almost like an industrial focused Amazon in Japan & increasingly elsewhere in Asia. Also, as an FYI, the admittedly far larger MonotaRO trades at ~7x NTM sales & >50x EBITDA vs. Broadleaf at ~2x NTM sales & ~7x EBITDA…perhaps noteworthy to consider when thinking about Broadleaf's aims to scale its auto parts e-commerce marketplace…
An Experienced, Highly Relevant & Forward-Thinking Leader
Lastly, and very importantly, Broadleaf is led by long-time Representative Director & President Kenji Oyama san. Prior to Broadleaf, Oyama san spent around two decades working at Being Co. (TSE: 4734), a now publicly listed software development company (JBI Note: Being is also probably worth a quick look - trading for cash on the balance sheet, modestly growing & profitable, paying a 6.5% dividend & valued at <0.65x NTM sales). While at Being & in 1996, Oyama san founded, and led as CEO, the company's associated investment fund, Being Investments Corp. Given its broader software focus, he spent meaningful time in Silicon Valley. While leading Being's investment arm, Oyama san was introduced to Broadleaf & later joined the company in 2006. The rest, as they say, is history.

---
Let's now turn our attention to the exciting changes underway at Broadleaf today.
JBI Note: to set the stage some before diving into the details, the in-process corporate transformation & the hopeful resulting financial & operating realities of the company once complete are what excites us most about the opportunity with Broadleaf today. This interest is only further ignited when assessing the company's current valuation: ~$450M market cap, trading at ~2x NTM sales & ~7x NTM EBITDA, while generating free cash flow with net cash on the balance & a 2.5% dividend yield. Suffice it to say, its valuation is far from stretched. In fact, when considering its entrenched competitive position, we'd argue there exists a rather strong "margin of safety" today with a not insignificant probability for a meaningful upward multiple re-rating that can be even further boosted by a nice uptick in incremental "recurring" revenue, as the company fully transitions to a cloud-based SaaS enabled e-commerce marketplace platform. More on all of this below…
As we briefly highlighted earlier, Broadleaf recently restructured its business beginning in FY2018. The below graphics outline this shift in greater detail: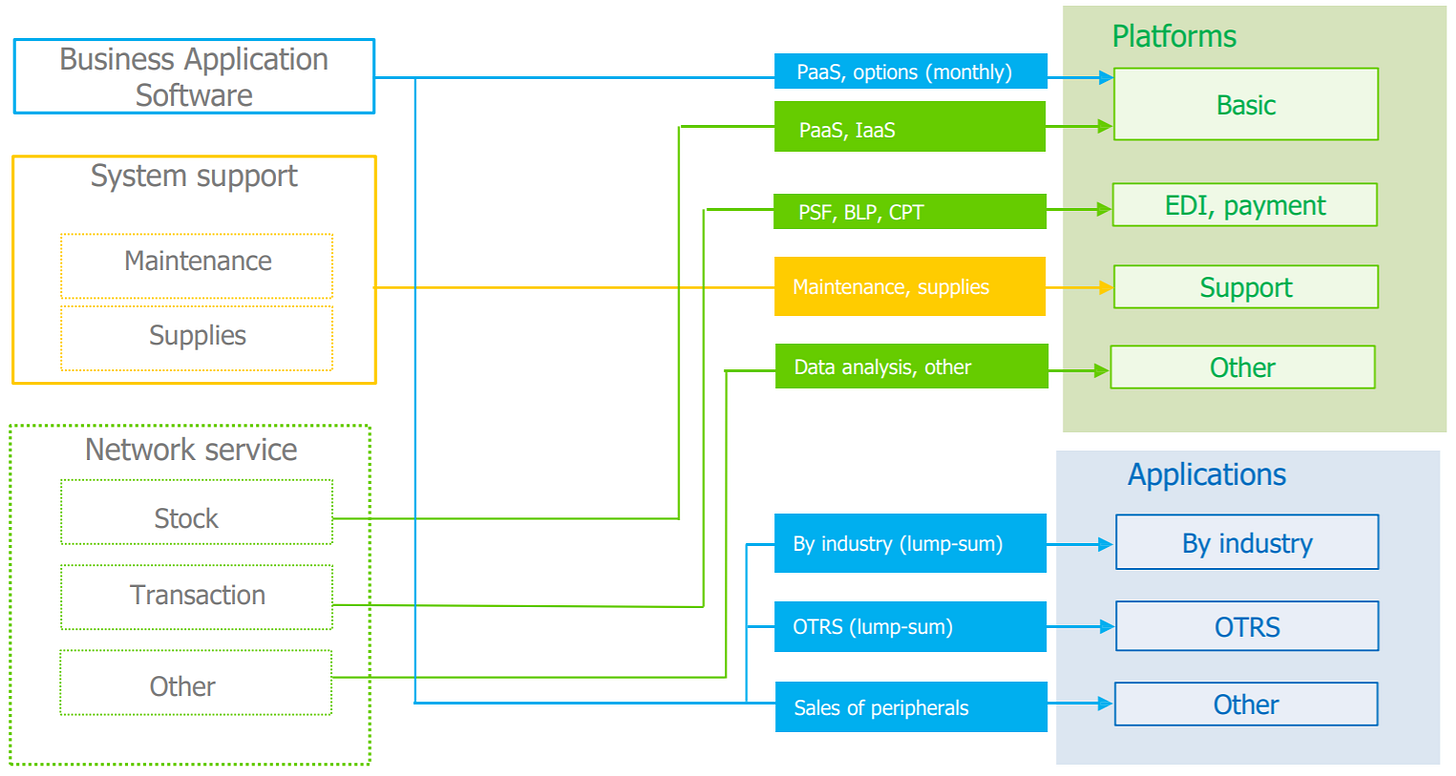 Above: Left is the old structure, Right the new structure. Below: current structure in detail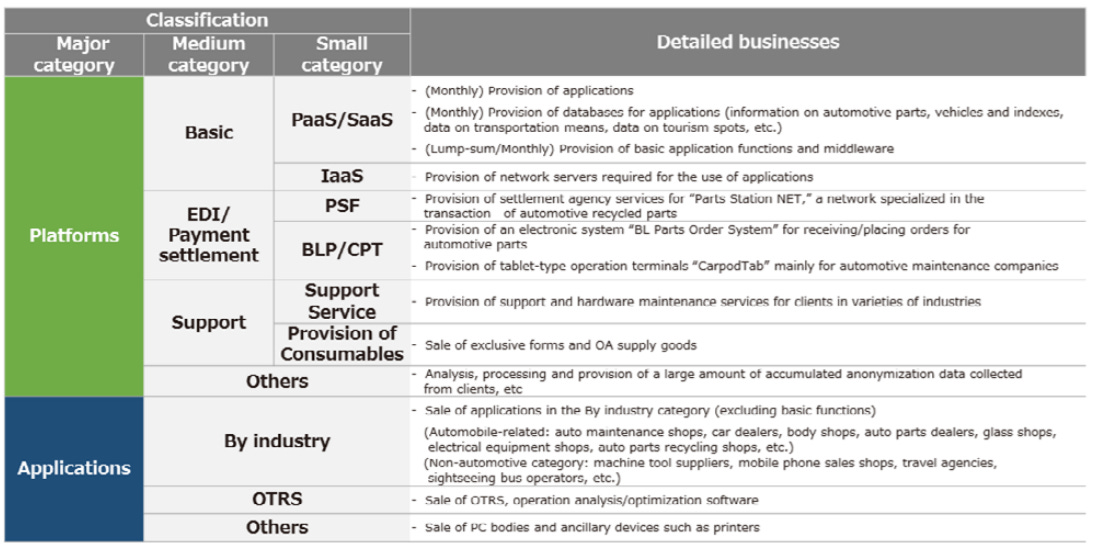 Source for both: SharedResearch
Underpinning this restructuring is management's aim to turn Broadleaf into a cloud based vertical market SaaS, network-driven e-commerce marketplace platform (JBI note: quite the mouthful!). Barring some potential reforecasting due to COVID-19, Broadleaf is targeting its "Platforms'" business segment to expand from ~45% of revenue today to ~60% by YE 2022. We would imagine this number growing even further looking ahead to 2025.
The following graphic succinctly captures the company's vision for its rapidly expanding cloud efforts. We'll touch on a few of the more salient aspects of this vision at greater length.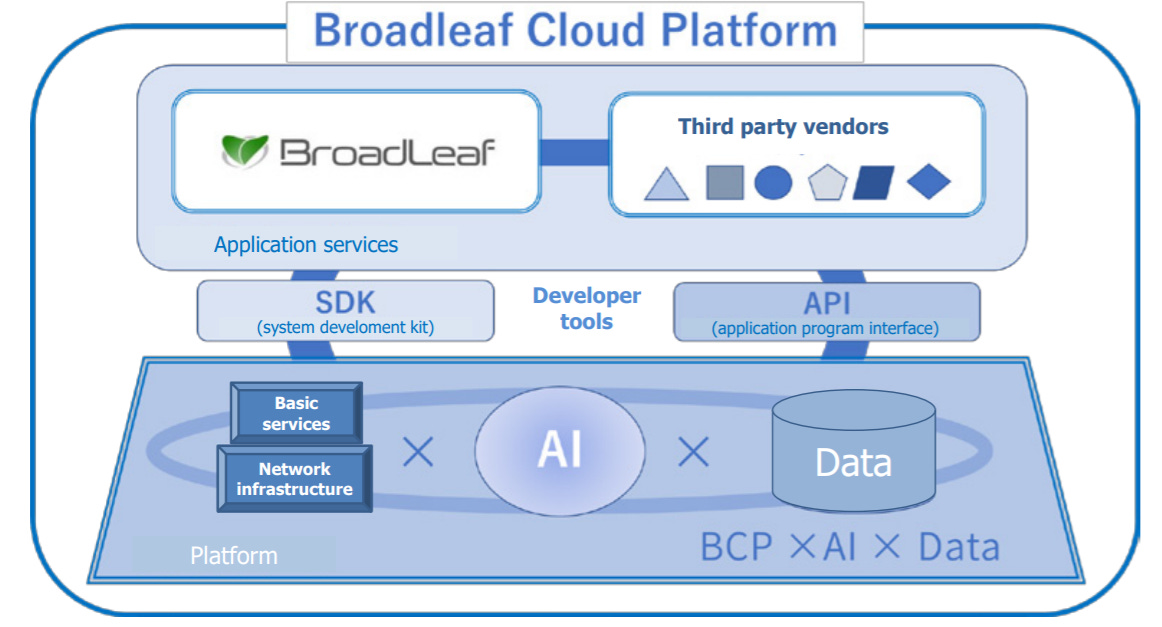 Source: SharedResearch
Immediate Cloud "After-Effects"
A key strategic element of the cloud platform shift is management's desire to create a more direct contractual & fluid product-level relationship with its customers. In doing so, clients will be transitioned to monthly, annual and / or usage based payment models. This transition should have several positive impacts:
A more stable, predictable revenue stream & a higher overall gross margin

Given its historical 6-year contract durations, Broadleaf has typically offered meaningful discounts to win customers. Upon moving to monthly / annual contracts, this discount can be greatly reduced, or even perhaps fully eliminated, thereby providing a boost to gross margins.

JBI Note: we have been so far unable to determine the level of these prior or anticipated contract discounts.

Optimized sales & marketing spend & reduced "friction" during the sales process

Most customers will be able to quickly sign up online or by calling one of Broadleaf's three nationwide call centers. Management believes this lower-friction, less complex go-to-market strategy will allow it to improve upon its already high historical average contract renewal rate of >90%. "Contract maintenance" costs should drop accordingly as well.

By lowering the upfront financial commitment, Broadleaf should be able to increase its customer "win rate" & expand the pool of target customers

Of course, as a cloud-based offering, the company will be able to easily & frequently roll-out product updates - an initially compounding (albeit perhaps not enduring) competitive advantage over peers still operating under an on-premise & license based approach. On going implementation costs should drop as a result of this as well.
JBI Note: we'd love to get a better understanding of how management thinks about the likely shift in marketing spend that may be required given the transition to a more self-serve sign-up model. Will they still lean heavily on direct in-person pitches & just default the sign-up process to their website? Does an inside sales effort become more relevant or required? Lots of additional questions (e.x. pricing model specifics), but we are optimistic about the broader strategic approach here.
Growing A Third-Party "App Marketplace"
Similar to Salesforce's AppExchange, Slack's App Directory, or Shopify's App Store, Broadleaf is building its own third-party "app marketplace". Examples of likely outside "apps" that will sync into Broadleaf's systems via API include the likes of freee (cloud based accounting & HR software) or Rakus (SMB focused email & business management software). As most third-party developers will likely be connecting existing products (vs. those seeking to spec-build on top of Broadleaf), this added feature may not be the strongest of "switching barriers", however, the enhanced customer value proposition is undeniable, as are the increased customer switching costs.
JBI Note: while we love the angle being pursued here & admittedly may not fully grasp the exact aims of the management team, we aren't terribly confident at the moment of the ultimate extent of the "uptake" among third-party developers in building into or on top of Broadleaf's auto aftermarket ecosystem (we do realize the company intends to push beyond the auto aftermarket space, though that is easier said than done). For some use cases it makes perfect sense (i.e. again, SMB focused accounting software like Japan based freee), but beyond a core set of tools, we don't see auto repair shops & the like having the i) current need for; and ii) capacity / willingness to pay for many add-on products beyond that which Broadleaf itself already offers.
However, as tech-optimists, it would not surprise us if in the not-too-distant-future these "unimaginable" ways of doing business in "old-economy" sectors like auto maintenance become very imaginable & arguably required. So, we ultimately view it as very smart indeed of Broadleaf to be building out its API & SDKs capabilities sooner rather than later - they are thinking about things the right way!
Leveraging SaaS Usage To Drive E-Commerce Traffic
Broadleaf management believes that a coordinated, comprehensive roll-out of its broader cloud platform will hasten adoption of its similarly revamped auto parts e-commerce marketplace, the latter of which they intend to "soft-launch" in January 2021.
Broadleaf's Amazon-inspired e-commerce marketplace, in fact, already enjoys a leading market position, with the company estimating that 20% to 25% of all new & recycled auto parts purchases in Japan being end-to-end ordered on its portal. Including orders made with one of the parties not tied into Broadleaf's software ecosystem, that number jumps to ~50%. Today ~3,000 major auto parts dealers & auto maintenance shops are active on the ordering marketplace.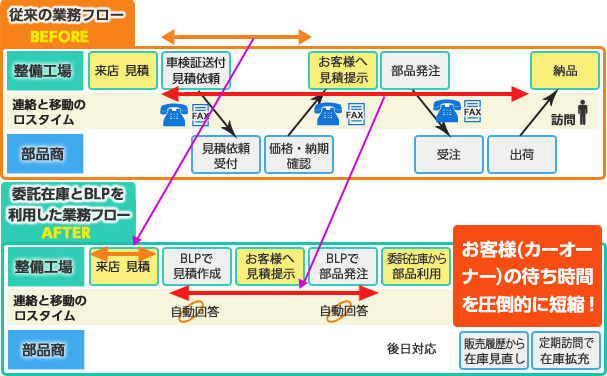 Source: Company website - showing impact of using the online ordering portal (bottom)
Do realize, however, that the company is not fully monetizing this opportunity today. The latest disclosed e-commerce transaction revenue number was just ~$9M in 2018.
To provide a sense for the potential scale of the latent e-commerce opportunity here, the domestic market for used auto parts alone in Japan is ~¥200Bn (~$1.9Bn), while management estimates that ~50% of the ¥5.6Tn (~$53Bn) of auto maintenance market revenue is comprised of auto parts purchases for purposes other than repair. Importantly, Broadleaf subsequently estimates that 80% of the orders for parts purchasing among non-auto manufacturer affiliated maintenance shops are executed using Broadleaf's system(!).
JBI Note: so, given the immediate above, we can walk down to a rough estimate of ~$10Bn of annual parts purchasing that could realistically fall within Broadleaf's "live-action zone". If we further assume that, over time, the company is able to achieve an e-commerce penetration rate on its platform in line with Japan's broader e-commerce penetration (i.e. ~10%), they'll hit $1Bn in GMV. With a modest 5% "take-rate" and - as we'll further touch on below - a very real potential for, say, a ~70% overall contribution margin on marketplace transaction revenue, Broadleaf would effectively 2x its current operating profit. For what it's worth, we think these assumptions could be relatively conservative; the timing, on the other hand, far less certain.
To provide some additional color on the above contribution margin comment, it is impactful to understand that many of the buyers & sellers transacting on Broadleaf's e-commerce platform will be increasingly, if not already entirely, "captive". With Broadleaf's industry standard BL codes & its dominate software applications active across every core auto aftermarket sub-vertical, there's really no easier place or way to transact for most - not even close. Also recall that Broadleaf's core software application customer tilts heavily to the "enterprise" side. Considering such, if I am, what is likely in most cases, an "enterprise" maintenance shop's smaller ecosystem partner, I am almost certainly going to follow this larger partner's lead in doing business wherever & however they choose (i.e. Broadleaf). In fact, management estimates that 50% to 70% of their "enterprise" customers' ecosystem partners are themselves already using Broadleaf systems. Realizing all of this, it becomes clear that:
There is a strong, organic "pull" to the incremental customer acquisition process

Marketplace churn is likely to be extremely low

Transaction based revenue can become quite enduring & effectively recurring in nature
With "captive" marketplace participants - who rely on Broadleaf's SaaS & data products to organize & inform their auto parts purchasing needs, among much else - there's an embedded & growing incentive to transact on Broadleaf's marketplace & thus a fast-declining cost for Broadleaf to attract & retain marketplace GMV over time.
To step back a bit, we see this same general phenomenon, for example, with Slack's powerful Slack Connect feature. Slack is dominate among Enterprise customers, with 49% of revenue coming from customers paying >$100k p.a. As these larger organizations leverage the Connect feature & "invite" (a.k.a. effectively require) their generally smaller ecosystem partners (i.e. third-party headhunters, customers, service providers) to engage via inter-organization Slack channels, a growing, very capital efficient, organic sales channel emerges for Slack that drives incremental paid user growth from these "non-core" customers. As more companies sign up for Slack & more inter-org Slack channels are established, the more valuable it becomes for a given company to be active on Slack & the harder it is for them to leave - and that's without even considering the array of valuable tools available to users via Slack's third-party app directory.
The broader point we are trying to make here is that Broadleaf has clearly studied the strategies of global software & marketplace companies & is attempting to replicate these product & strategic "toolkits" into its own business.
Also worth mentioning, we have not been able to determine the exact marketplace transaction fee structure nor fully understand the reasoning for the under-monetization up until now - we're rather "cloudy" on this general topic, to be honest. We believe it could be due to some element of the company's legacy software, in light of management's focus on, again, leveraging its updated cloud product suite to drive marketplace usage.
Ultimately, Broadleaf's aim is to allow value to flow ever more easily within its ecosystem, removing friction wherever possible & making it easier for market participants to transact.
Cultivating its Data Asset To Build a Prediction Engine & Spur Transactions
As is likely clear by now, Broadleaf is sitting on a mountain of valuable data accumulated over the past decade when it first began actively aggregating such information. As we noted earlier, the company has repair data on ~25% of all registered vehicles in Japan (as of FY17), or 16.8M to be exact. The below graphic further details the extent of their ever-growing data library:

Source: Shared Research
Unsurprisingly, Broadleaf is now actively building out its data analytics & related artificial intelligence capabilities to better harness the latent power within its data, while also pooling the full extent of this data library into a centralized data warehouse in its emerging cloud platform. In doing so, the thesis goes, Broadleaf can better inform its customers of their likely upcoming repair & replacement part needs, ultimately tying users more deeply to its software / data products & pushing them to facilitate a growing amount of their parts purchasing activities on the company's e-commerce marketplace.
---
Select Risks & Related Observations
After just a few hours of initial research into Broadleaf, we quickly realized the subtle complexity to this business. The sheer number of products, sub-verticals & inter-linking strategies make it a bit difficult to grasp the "corporate skeleton" & fundamental narrative of the company without a more concentrated research effort. We believe this unintended opacity may play a part in obfuscating the attractiveness of the opportunity today with Broadleaf among investors.

While the cloud transformation plans & initial successes are exciting, continued execution is paramount to the investment thesis. On top of that, the mature, slowly declining Japanese auto aftermarket is not the most attractive of end-markets in which to be building a SaaS enabled marketplace platform, all things considered. Conversely, playing in such a "boring niche" provides Broadleaf with a meaningful opportunity to truly "own" the market (beyond that which they already do) given the relatively limited current & expected future competition.

We didn't touch on it much, but Broadleaf management does express a commitment to further its global expansion as well as investing in M&A. While prudent to always consider such growth opportunities, it may prove to be a costly distraction beyond a certain point. From what we can tell thus far, the opportunity before Broadleaf in the Japanese auto aftermarket space is more than attractive over the next 3 to 5 years. Focus matters.
---
JBI's Take
We'll start with the disclaimer of sorts that even after our initial quasi-deep-dive into the company, we still do not feel we have a perfectly clear understanding of some aspects of the business & its cloud strategy. In fact, we could make the argument that Broadleaf is perhaps too unfocused today. That notwithstanding, we also realize that when investing - particularly in forward-looking, innovative technology companies playing in dynamic winner-takes-most markets - grasping the most critical "broad stroke" competitive, market & company elements that weigh most heavily on long-term outcomes is far more essential than attempting to gain a complete appreciation for every seemingly important, albeit less overall impactful & usually more near-term focused, micro element.
In support of this investment mindset, we'll quote the astute CIO & Managing Partner of Atreides Management, Gavin Baker, from a recent interview of his:
"To me, all alpha comes from insights. An insight is kind of a differentiated long-term viewpoint about a stock. It's a differentiated view about the long-term state of the world. Often, these insights are very simple, and a lot of them are right brain: imaginative, being slightly better in seeing the future states of the world. These insights need to be grounded and tested in reality regularly. Also, it pays to boil them down to just a few variables. Like Occam's razor, the injunction not to make more assumptions than you absolutely need, simple is beautiful when it comes to investing."
Among the core elements that we feel are vital to a long-term investment thesis is the quality & integrity of management. We are of the initial opinion that President Oyama san is highly unique among the ranks of Japanese corporate managers today & is almost certainly the driving force behind Broadleaf's up-till-now success & its bold, comprehensive cloud transformation strategy. His time spent in, and presumably still deep ties to, Silicon Valley, his prior experience running Broadleaf under a global private equity owner & his historical capital allocation track record (i.e. meaningful dividend payments, previous share repurchases, thoughtful M&A - e.x. OTRS)…all of these experiences, actions & accumulated insights + know-how leave us feeling confident that Oyama san is a rare breed of corporate leader in Japan & fitting for the job at hand before Broadleaf today.
As we think about the "catalyst" that may trigger a re-rating of Broadleaf's stock, we are less certain of specifics here. From our understanding, the in-process cloud transformation has another 18 to 24 months to go before "completion". COVID-19 has certainly stalled the overall progress, though even so, management has stated their intention to only gradually deploy the new cloud product suite among customers to allow time for thorough feedback & necessary fixes. The following product release & go-to-market schedule details this approach more clearly:

Source: SharedResearch
Also worth highlighting is that management has yet to even decide on revised pricing for its cloud offerings. So, realizing the company is still in the 3rd or 4th inning of its transformation, we haven't seen & ultimately don't expect to see an immediate reaction by the broader investor community to the changes underway at Broadleaf. We'll likely need to wait for the COVID induced sales slow-down to reverse itself & for the cloud transformation to become more readily apparent in Broadleaf's financials before we see any meaningful share re-rating. Of course, the more obvious subsequent success becomes, the more one would assume we'd see that reflected in the share price & valuation multiples.
Timing aside, we feel strongly that Broadleaf is on a clear path to building a powerful new business model on top of what is already a very entrenched, proven & valuable operation. As we are seeing in other developed markets, vertical SaaS businesses are increasingly capitalizing on their often "mission critical" core software products by layering in transaction-based marketplaces, payments, lending & much more. Be it ServiceTitan in home & commercial services, Mindbody in personal wellness or Veeva in the life sciences industry, these vertical SaaS businesses are becoming essential "utilities" in many ways for the functioning of entire industry sectors - and valued as such in the process. Broadleaf, one could argue, has already become a "utility" within the Japanese auto aftermarket given its BL codes, for example. Adapting to become a more modern, agile & nimble software company should only compound this existing advantage & allow for a more robust set of capabilities to further delight its customers.
For example, as its cloud transformation more fully takes root, Broadleaf can begin to better tap its ever-increasing data asset to serve up the "right" product / service to its customers at the precise moment of need. In doing so, Broadleaf becomes a powerful system of network intelligence, matching the needs of its customers with the inventory of their connected suppliers in the smartest way possible, while allowing transactional relationships to flourish with minimal friction & increasing speed.
It is just as instructive to look at successful marketplace businesses to see how valuable these companies can become as their scale & dominance grows. U.S. examples include Etsy (whose stock is up >6x over the past 3 years), Uber or Airbnb, among plenty of others. We are not suggesting Broadleaf will end up as large as these companies, but remember as we walked through earlier, capturing <4% of the ~$26.5Bn annual auto parts purchasing opportunity in Japan via its revamped cloud e-commerce marketplace would roughly double Broadleaf's current operating profit. Just as important to highlight, unlike Uber, Etsy or Airbnb, Broadleaf does not need anywhere near the same amount of time, effort or investment to really jumpstart its marketplace density & liquidity - they already have an absolutely dominate hold on the domestic auto aftermarket by way of their existing software systems. "Tipping" its ecosystem of users to increasingly transact on its auto parts marketplace should be a far more rapid & capital efficient scaling process than otherwise.
As Chris Dixon of Andreessen Horowitz aptly put it when discussing SaaS enabled marketplaces: "come for the tool, stay for the network". For Broadleaf, we could maybe say: "you already have the tool & use the network…here's an upgrade, pay monthly & buy online".
---
We'll call it quits here for now! No doubt, we've likely misinterpreted things, overlooked others & misread even more, so please don't hesitate to touch base to share your critiques, views, insights & whatever else. Thanks for reading!
No position today, but may in the future. The above is not investment advice. Do your own research. Opinions our own.